On these last couple of days I turned my attention to our kitchen. We have a convenient work island in the middle of the kitchen, which naturally turned into a junk pile. We decided, as a family, that junk was not the best use for that surface, and that it could be much nicer and cleaner. We also had these IKEA bar stools, and since I usually sit on them and they hurt my back, I decided that some padding would be nice.
To save time and money, I stopped over at IKEA and picked up some fabric and other home accessories and set out to get all the work done in a couple of hours. Well, not surprisingly, it took a little longer than that (but not much). While I was there, I decided to tackle the junk pile on our bedroom dresser as well, and got some candles and a lucky bamboo, which I hope will help keep the junk away in our entire home (and I like the way it looks and that it doesn't need to be watered very often). It's not particularly inspiring, just clean and neat, so I'll spare you the pictures.
This is our kitchen before: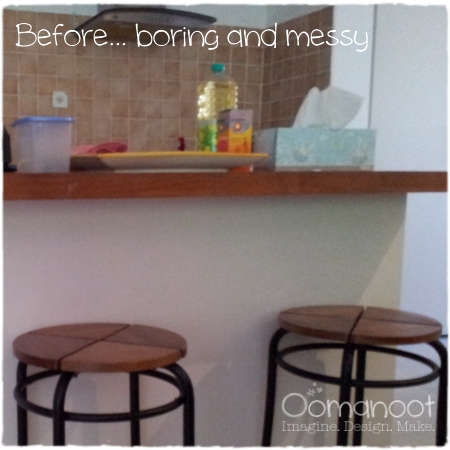 And here is what it looks like now: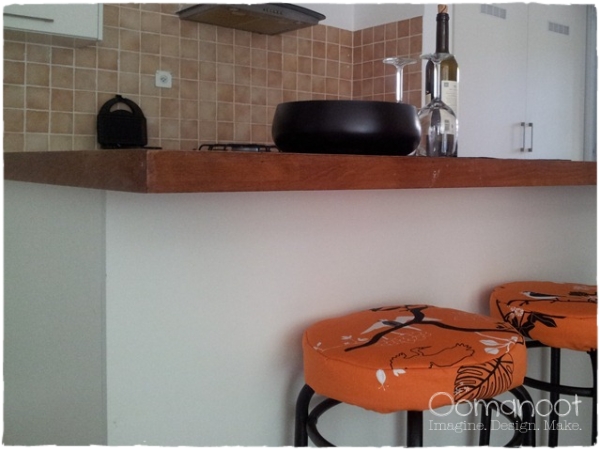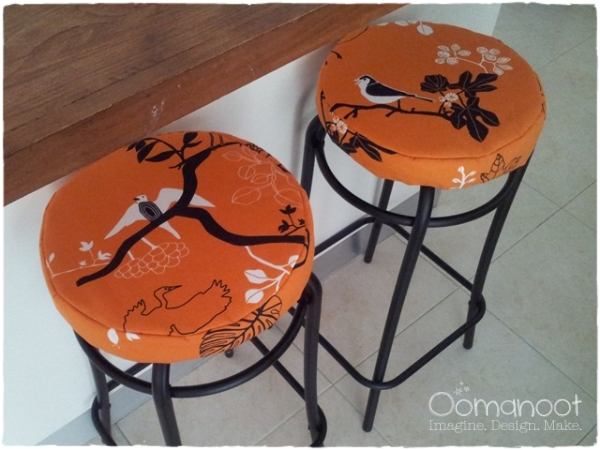 I upholstered the IKEA stools (with IKEA fabric), and used a matching contrast fabric for the table top. Two wine glasses, a wine bottle and a black and white fruit bowl (which will be filled once I get back from the market) completes the soft yet elegant look. I'm very happy with the result. In fact, I've been stopping to look and feel proud of my work every time I go in the kitchen…
To complete the decluttering, I moved all of the unused fridge magnets to the side of the fridge, where they don't show. Then, I wrapped a tin box with the upholstery fabric and glued a magnet on the back, to use for pens. I got the idea here, and I've been meaning to do it for a while now. Finally, no more hunting for pens when delivery guys show up!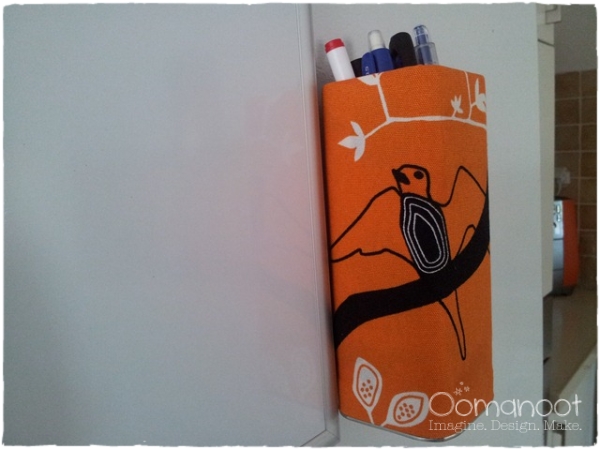 You can just see our water cooler in the back of the kitchen, so you can see that we really like orange. I can't get enough of the color (though I try to not go overboard with it).
Last but not least, I made a cover for our Kitchen-Aid out of the same contrast fabric. When I was almost done I decided it was too dark for the corner it was going to be in, and decided to add a bias tape finish made from the orange fabric instead of just hemming it. I'm happy with the result, and I will be sharing a tutorial soon (I'm planning to make one for my in-laws, so I'll draft a pattern while I'm at it).
Perfect.