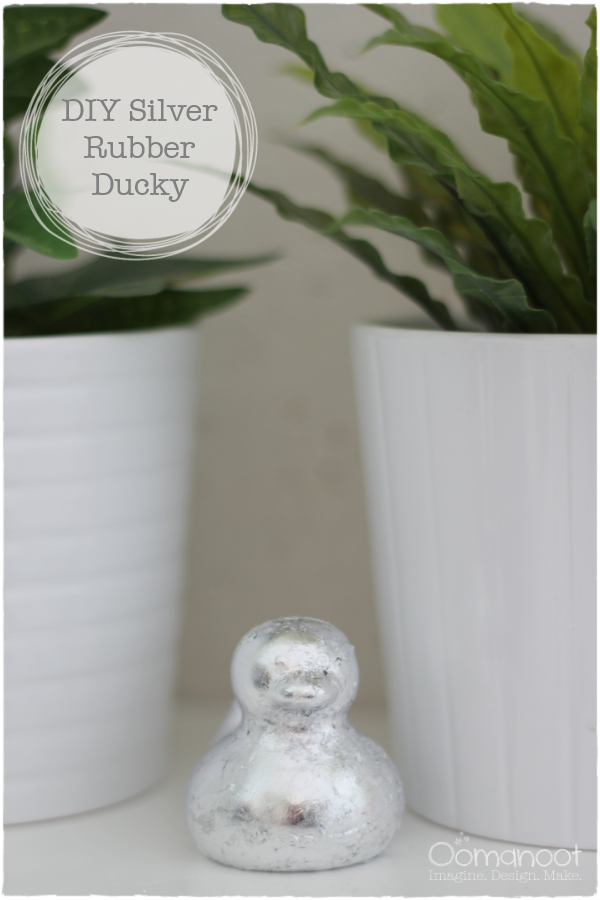 I've mentioned before that we moved about 6 months ago, and we've been a bit stuck home-decor-wise. Every little thing that needs to be done (not to mention the big stuff…) takes forever to get around to.
In this case, I was inspired by these DIY gold pears shown by Elisheva on Hook 'n' Loop Design's blog. The idea of taking a cheap item and covering it with gold (or in my case – silver) struck me as genius, and I had to try it myself.
Our bathrooms actually got quite a bit of my attention, we have mirrors, towels and I even got some greenery as decoration (ahhhmmm, plastic. Don't tell any one…). However, I've always liked rubber ducks and I just had to buy a few and try it. So I did.
It's not very complicated – just get a special glue and the silver/gold/copper leaves, and follow the instructions. What they don't tell you on the package (though Elisheva did mention it in her instructions…) is that it makes an incredible mess. Little pieces of silver leaf everywhere!
If I ever do this again, I will:
Set the whole thing up on the floor on newspaper so I can fold it all up and throw it away when I'm done.
Work with latex gloves.
Have a whole lot of wet wipes around to catch stray bits and pieces.
I survived the process and have 3 super cute, yet elegant rubber duckies to show for it. I think they go well with the plants and add a touch of whimsey to our bathrooms.