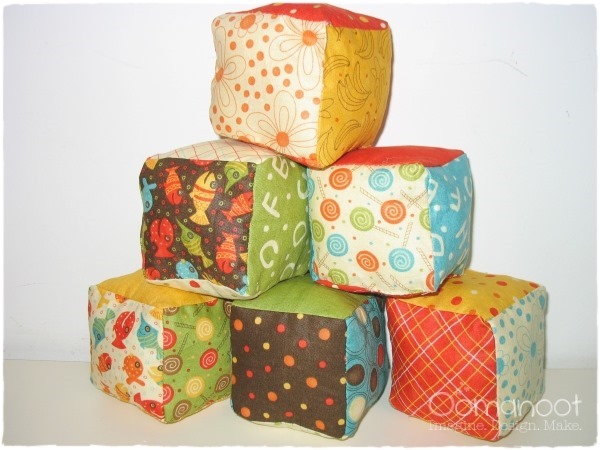 I love precuts. They're like getting a selection of chocolates, each one tasty on it's own, but together – a celebration of sweets! And, unlike eating all those chocolates, precuts don't have a single calorie in them. Obviously, precuts are more expensive per-yard, but I wouldn't buy that many yards of fabric… Instead, I get a large selection of various fabrics and get to enjoy all of the patterns (and solids).
For this project I used a charm pack from the Moda Lollipop Collection (42 5" pieces), I got it from Fabric.com, but it's been a while and I'm not sure if it's still available.
You'll need 36 pieces for making 6 blocks, but don't throw away the scraps! We'll be using them for part 2 of this project – a matching tag blanket. We'll also use 4 more pieces for the back of the tag blanket, but that's not strictly necessary, you can use other fabric if you like (I often use minky).
Aren't those colors great?
So, let's get started!
Materials & Notions
36 7cm (2.75″) square pieces of various fabrics. If you're using a charm pack – that's 36 pieces + left over scraps.
A small amount of interfacing (less then 1/4 yard/meter)
Fiberfill stuffing
Matching thread
Standard sewing supplies (scissors, seam ripper, etc.)
Instructions
Choose your colors: Lay out your fabric pieces and arrange them in groups of 6. In the collection I used there were 6 color group, so I chose one of each color including one solid for each block. In addition, I made sure that there were no duplicate patterns (in a different color…) in the same block.

When you're happy with your arrangement, label the pieces or take a photo. You will forget how it was.

Cut and prepare your pieces: For each block, cut 6 7cm (2.75″) squares of fabric, and 6 6.5cm (2.5″) squares of interfacing (36 of each total). We will be using 0.5cm (1/4″) seam allowances, so the interfacing is only slightly smaller than the fabric.

Iron the interfacing on to the fabric pieces. Try to center them, so you can use them as a guide for sewing later on.

Assemble: Take all 6 block pieces. Place two fabric pieces together, right sides facing. Sew along one edge, with a 0.5cm (1/4″) seam allowance (or using the interfacing as your guide). Open and iron seams flat. Continue attaching 2 more pieces the same way.When you reach the 5th and 6th piece, you will be attaching them to one of the middle pieces, making a cross shape (see image).

Build: At this point, we will start making the block 3 dimensional. Fold over the cross diagonally (see diagonal line on piece 3 in image), so that piece 4 and piece 5 are on top of each other (right sides facing). Sew piece 4 &5 together on one side (marked with the same color in image). Repeat for pieces 4 &6, 6 &2, and 5 & 2

.Now it gets a bit tricky… Making sure not to catch any of the other pieces when you sew, fold and line up one side of piece 1 with the top of piece 5. Sew together. Repeat with piece 1 & 6.

Stuff.

Hand sew shut.
That's my daughter enjoying hers…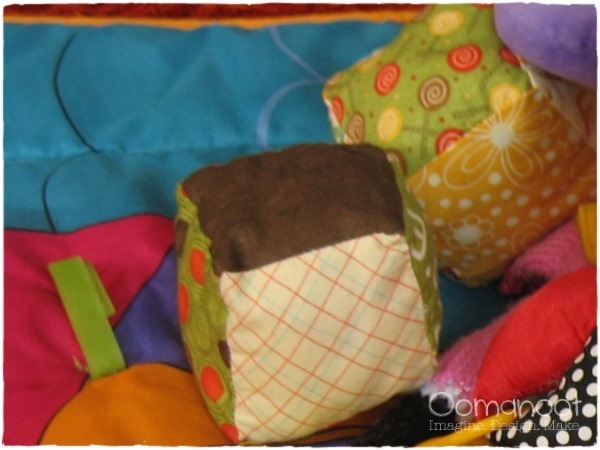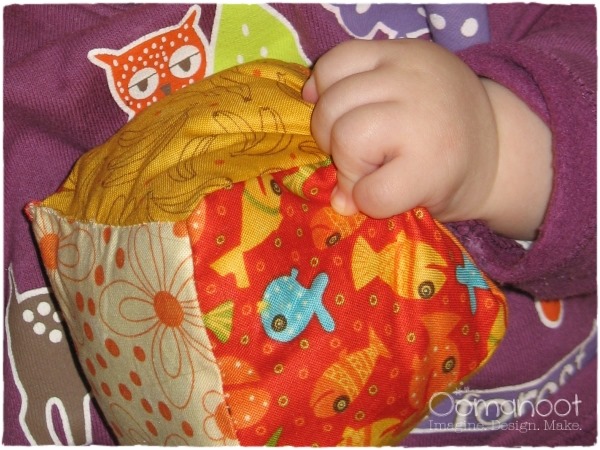 Enjoy!
[This tutorial is free for commercial use. Please read the Terms & Conditions for further details.]