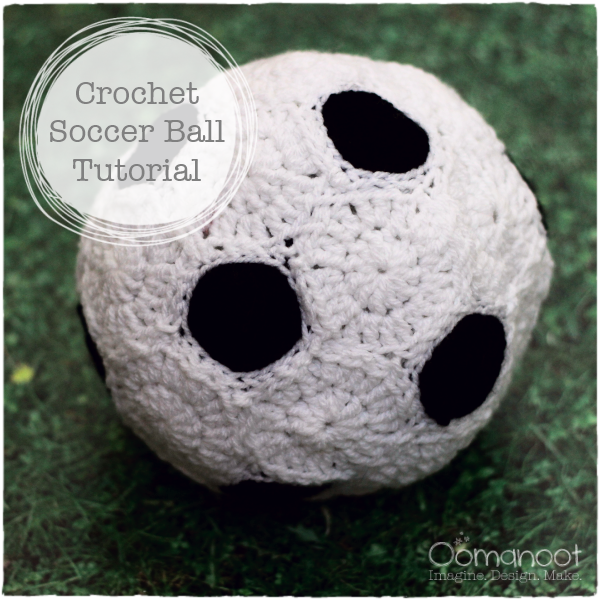 I spent a long time deciding what the title of this post should be. My family comes from the US, so in my American-English I should call this type of ball a soccer ball. But in Israel the sport is called football (translated into kadur-regel which means foot-ball), while the transliterated word "football" is reserved for American football. And calling it a Truncated Icosahedron, well – nobody would get that at all. I'm not even sure how to pronounce that second word.
I decided on soccer ball.
I don't know if you've been following the 2014 FIFA World Cup, but in our house it's the only thing happening. The TV has been taken over by the men of the house (one of them barely 7 years old) and I have retreated to a distant couch and sit on my own crocheting. Boo-hoo. Hopefully a crochet soccer ball will get me some attention around here!
Materials
1 ball white worsted weight yarn ~100g (MC), approx. 1/3 ball black yarn ~30g (CC)
3.5mm hook
blunt needle for sewing pieces together and weaving in loose ends
Fiberfill stuffing
Notes
Gauge is not critical for this project, use thicker yarn to get a larger result or lighter yarn for a smaller result.
You should use a slightly smaller hook than recommended for the yarn weight, we want the stitches to be very tight so that the filling does not show through.
Because the ball is three dimensional, the images in the construction section of the instructions are slightly skewed. Sometimes I "flatten" the ball for clarity. The numbers should help you keep your place. The numbering remains consistent between images, so if you want you can number your pentagons and hexagons using stickers so you can keep track of where you are.
Abbreviations
ch – chain
st – stitch
sl st – slip stitch.
hdc – half double crochet
dc – double crochet
[ … ] – repeat instructions in [ ] as many times as specified.
Instructions
Hexagon (make 20)
1: With MC, ch 4. Join in first ch to form a loop. 12 dc in the loop, or use the magic loop method. Join in top of first dc.
2: Ch 3, dc in same st. 2 dc in next st. ch 1. [2 dc in next 2 st, ch 1] 5 more times. Join in top of ch 3.
The ch 1 between every group of 4 dc helps give the sides a straighter edge which resembles a hexagon better than the rounder shape you would get normally.
Bind off.
Pentagon (make 12)
1: With CC, ch 4. Join in first ch to form a loop. 10 hdc in the loop, or use the magic loop method. Join in top of first dc.
2: Ch 2, hdc in same st. 2 hdc in next st. ch 1. [2 hdc in next 2 st, ch 1] 4 more times. Join in top of ch 2.
Bind off.
3: Optional: With MC, sl st in blo around all pentagons. This will create a clean border for attaching the black pieces to the white ones (similar to the perfect color change technique).
When I looked into how a soccer ball is constructed, I counted 12 pentagons. I wrote down 12. And then I proceeded to make 15. Silly me!
Construction
Take one pentagon, and sew 5 hexagons around it. Sew adjacent hexagons together as you go along. Take 5 more pentagons and sew them between each two hexagons (see image).
Repeat with remaining pentagons and 5 more hexagons.
Now we will attach the two halves of the ball together using hexagons:
[first] Choose one of the ball halves. Sew a hexagon between two pentagons (see image).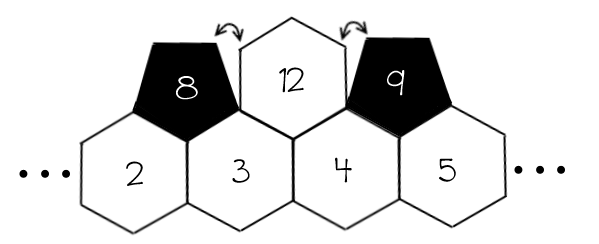 [second] Sew the next hexagon so that one side is at the top of one of the pentagons and the other side is adjacent to the hexagon we just attached (see image).
[third] Place the next hexagon between the next two pentagons, and sew around 4 sides (see image).

Repeat [second] and [third] until you finish all remaining (10) hexagons and reach the first one.
Now take the second half of the ball and you'll see that the hexagons and pentagons fit perfectly between the hexagons you attached to the first half. Sew them together, leaving one seam open for stuffing.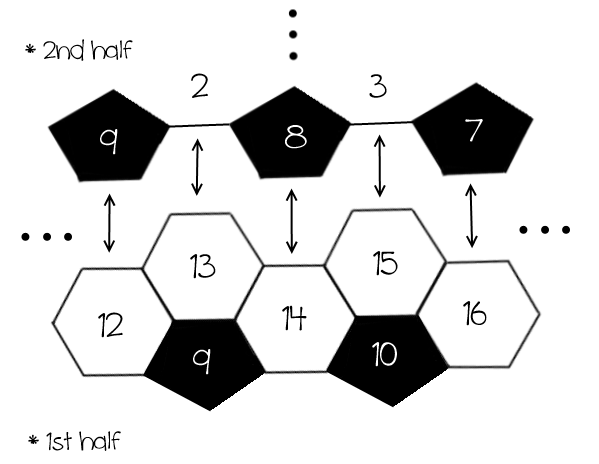 Stuff firmly and sew shut.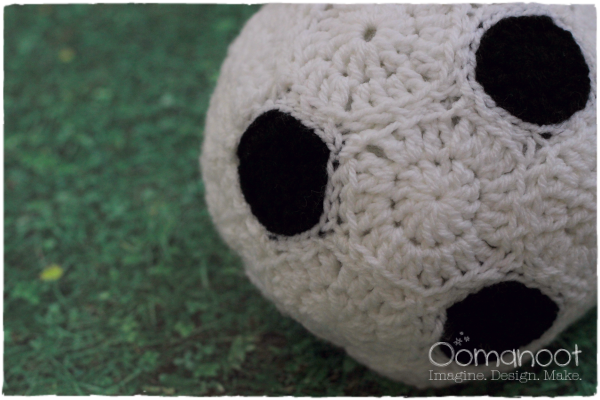 Enjoy!
[This pattern is for personal use only. Items made with this pattern may not be sold without my explicit permission. Please read the Terms & Conditions for further details.]